PetFix
Low Cost Spay/Neuter Program

Low-cost spay/neuter services are one of the most critical parts of controling pet overpopulation and the Ashtabula County Humane Society is proud to offer this program for our clients!
Not only can having your pet help it have a longer, healthy life, you will prevent more animals from being born into a world that doesn't have enough homes for them all.
Do the right thing for your pet and have it spayed or neutered!

To qualify pet's eligibility, owner must provide one of the following forms of proof:
* Low income housing, Section 8 approval
* Ohio Works First Program
* Medicaid
* Social Security Benefits Income
* Disability Income
* Food Stamp Program Recipient





* WIC Program
* Supplemental Security Income
* Low Income Guidelines,

Single person under $14,355.

Family of four under$29,025


* Recommendation by private veterinarian



Feral (wild) cats are eligible for surgery without regard to income,
IF caregiver continues to feed them. Feral cats must be brought in live traps.



Cost to Pet Owners
Male Cat $35.00
Female Cat $45.00

Male Dog $55.00
Female Dog $75.00
Dogs can't weigh over 60 lbs, due to space restrictions for surgery and recovery.

Rabies vaccinations are available for an addition $6.00 fee. Proof of Rabies vaccination is required by Ohio State law.
To schedule an appointment please call Nancy at 440-969-6100
---
How You Can Help Out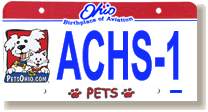 By choosing to purchase the Pets plate, you will be helping to reduce the number of dogs and cats that enter shelters and humane societies in Ohio due to pet overpopulation. Fifteen dollars of the total plate cost helps provide funds for spay and neuter surgeries as well as educational programs concerning the care of those pets for senior citizens, veterans, low income individuals, pets in shelters, humane societies, and foster/breed rescue groups.

Your contribution will help promote public health and safety: fewer strays means less potential for bites and spread of disease. Ohio's wildlife population will also be protected by reducing the number of free roaming dogs and cats.
To order a set of Pet Plates for you car, please visit the Ohio Bureau of Motor Vehicles and help us work to eliminate pet overpopulation!
---